New Patients
First Visit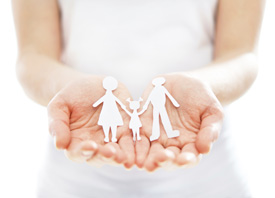 Consultation
On your first visit to our office you will be welcomed as a member of our chiropractic family and our chiropractic assistant will greet you with a warm smile. We offer our new patient paperwork online so you can download and complete in the convenience of you own home. Please bring these forms to your first visit to help us gain some information about yourself and your condition.
Dr. Byrnes will then talk with you and ask you some specific questions regarding your condition to determine if chiropractic care may be of benefit to you. If Dr. Byrnes can help you, they will let you know. If they cannot help you, you will be referred to another doctor that will be able to help you the most. Nothing will be done in our office without your consent.
Examination
After a thorough consultation in our office, you will have a complete chiropractic examination. This will include testing your reflexes, your ability to turn and bend as well as other standard orthopedic, neurological, postural, and physical examinations. The doctor will gain valuable information regarding your condition so that a better understanding of how chiropractic can help you.
Important Request
We strongly encourage you to bring a spouse (or a significant person in your life) to this visit so they can support you in your journey to better health.
Second Visit
Based on all the information gathered from the consultation and examination, an oral and written Report of Findings will be given to you by Dr. Byrnes to help you understand your recommendations of chiropractic care.
Most of our patients begin to see results from the very first adjustment. Our special, gentle, yet effective alignment of the body is interactive with the patient, gentle enough for kids (they love us), yet able to restore function and movement for the athlete and senior.
Workshops
South Shore Family Chiropractic is strong on education. Chiropractic 101- The Doctor's Report: This is the single most important visit we provide because it is where you'll learn how to get the best results from Chiropractic.
It is our policy that you attend one Workshop within the first 2 months of care. We recommend that you bring your spouse, a family member, or friend with you so you can create a support group that understands what you're going through and keep you focused on your desired results.
Also, if you know anyone else with a health problem, or who is committed to a wellness lifestyle, our Workshop would be a great way to introduce them to our office and chiropractic without any obligation or financial commitment. There is never a fee for you or your guests.
Workshops are held one Wednesday/Monday of each month at 7:00 pm. We strongly recommend you also attend our Chiropractic 102 & Chiropractic 103 Workshops as your treatment continues.
We look forward to getting to know you and your family as we support you in your journey to better health. Contact us today! (781) 335-7671
CONTACT US »
---
New Patients | (781) 335-7671